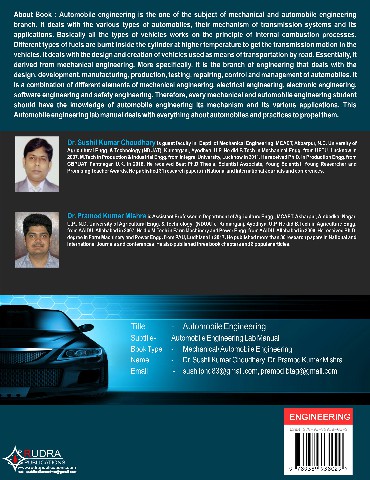 Automobile Engineering
  ₹ 275 ( Paper Back )
---

Author      Dr. Sushil Kumar Choudhary


ISBN      9789389938029


Category    Engineering


No of Pages   166


Publisher Rudra Publications


SKU Code   RP-2019-0022


Book Size    34


Publishing Date 2020-02-03


Language    English



---



Automobile engineering is the one of the subject of mechanical and automobile engineering branch. It deals with the various types of automobiles, their mechanism of transmission systems and its applications. Basically all the types of vehicles works on the principle of internal combustion processes. Different types of fuels are burnt inside the cylinder at higher temperature to get the transmission motion in the vehicles. It deals with the design and creation of vehicles used as means of transportation by road. Essentially, it derived from mechanical engineering. More specifically, it is the branch of engineering that deals with the design, development, manufacturing, production, testing, repairing, control and management of automobiles. It is a combination of different elements of mechanical engineering, electrical engineering, electronic engineering, software engineering and safety engineering. Therefore, every mechanical and automobile engineering student should have the knowledge of automobile engineering its mechanism and its various applications. This Automobile engineering lab manual deals with everything about automobiles and practices to propel them.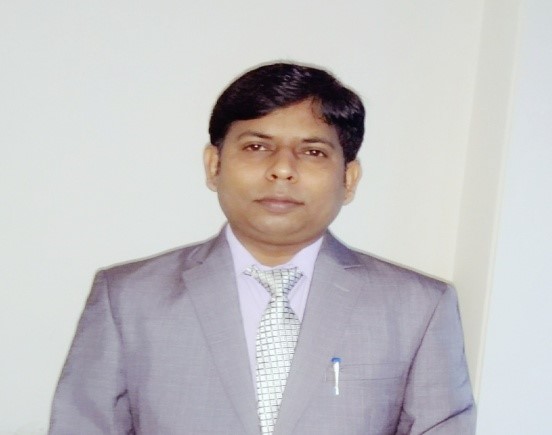 Name      Dr. Sushil Kumar Choudhary


Website www.rudrapublications.com



About Author
Dr. Sushil Kumar Choudhary is guest Faculty in Department of Mechanical Engineering, Mahamaya College of Agricultural Engineering and Technology (MCAET) Akbarpur, Ambedkar Nagar, Uttar Pradesh, Narendra Deva University of Agriculture and Technology (NDUAT) Kumarganj, Ayodhyaya, Uttar Pradesh. He graduated in Bachelor of Technology (Mechanical Engineering) from Institute of Integral Technology which was affiliated to Uttar Pradesh Technical University (UPTU), Lucknow in 2007 (Presently named as Integral University, Lucknow). He did Master of Technology in Mechanical Engineering in 2011 with specialization of Production and Industrial Engineering from Integral University, Lucknow, Uttar Pradesh He received Ph.D. degree in Production Engineering in the department of Industrial and Production Engineering from College of Technology, G.B Pant University of Agriculture and Technology, Pantnagar, Uttarakhand in 2018. He received Best Ph.D thesis award, Scientist associate award, Young Scientist award, Young Researcher award and Promising Teacher Award. He is members of various professional bodies: International association of Engineering (IAENG), American society of mechanical Engineers (ASME), American welding society (AWS) and Institute of Research Engineers and doctors (IRED). His teaching & research area are manufacturing process, unconventional machining process, welding, Industrial Engineering, etc. He attended various short term courses, workshops, national & International seminars and conferences. He published more than 31 research papers in National and International Journals and conferences. He also published two books in LAP LAMBERT Academic Publication which is a trademark of Omni Scriptum GmbH & Co. KG, Saarbrücken, Germany.